I'm less than a week away from getting my Bachelors in Nutrition/Dietetics from Oregon State University. My professors constantly tell us how we know 10 times the amount of nutrition knowledge then the average doctor, which I don't question. However, because nutrition is a science, I feel somewhat inadequate. It really is true that the more you know... the more you realize you don't know. THAT sums up perfectly how I'm feeling at this moment. So in an effort to procrastinate studying for my medical nutrition therapy final, I am going to do some research for you on the one, the only, chia seeds!

Just yesterday I added chia seeds to my oatmeal and thought, what are in these tiny little seeds that make them so popular? Questions like this, about a variety of foods, often come up in my brain. Today I will focus on the self proclaimed "superfood" the chia seed. I decided to start where the general person would start. GOOGLE. Keep in mind I am not just any general person though. I am less than a week away from getting my bachelors in nutrition!!!! Why are you google searching you ask? Because that's where 99.99% of people get their nutrition information!!! Oh, and facebook. Let the eye rolling commence. I try to keep quiet about some things people share on facebook but sometimes I get super irritated.

Alright. So Google came up with a lot of funny stories about chia seeds. One involving the "dangers" of the pesky little seeds. If you've ever eaten chia seeds you know, when added to water, they expand. This is normal. Well, one magazine website (a magazine I read often I might add) explained that because of the expanding effect chia seeds have, they could cause esophageal obstruction and dysphagia (difficulty swallowing). Oh, and this is all based on one mans attempt at eating a spoonful of chia seeds in one sitting and following with a glass of water. SERIOUSLY?! It's like saying that cinnamon is bad for you because a bunch of people do the cinnamon challenge. It is super important to read the articles you share, because you could be contributing to the confusion. The things people can write about and title "Scary News About Chia Seeds" and get away with astonishes me. I'm having a hard time not laughing out loud in this coffee shop right now.

Let's get to the point. Why are chia seeds awesome? Here are some facts backed up by evidence. This is the stuff you can trust. Chia seeds are from the desert plant Salvia hispanica, a member of the mint family (plants are weird like that). The seed was a staple in the ancient Aztec diet. They contain Omega- 3 fatty acids, protein, fiber, and some other good nutrients that our body needs like Iron, Magnesium, and Calcium! Just two tablespoons of chia seeds give you 6g protein, 10g fiber, 7g fat (Omega-3 yaaaa), and 130 calories. That's pretty awesome. The greatest benefit I can see that chia seeds could give to the general population is fiber. The recommended

total dietary fiber intake should be 25 to 30 grams a day from food, not supplements. Most people only get 15 grams per day. Not getting enough fiber can result in irregularity or just generally an unhealthy gut which can result in an overall unhealthy body.

Some extra benefits that these little morsels offer include natural antioxidants such as phenolic glycoside-Q and K, chlorogenic acid, caffeic acid, quercetin and kaempferol. Woah that's a mouthful. Antioxidants help in removing potentially harmful molecules from damaging your body. Fun fact, every time you breathe you are producing free radicals (the harmful molecules) in your body. So eating foods full of antioxidants is never a bad thing to do. You can usually spot antioxidants in foods by the color. Fruits and vegetables are loaded with antioxidants and it's evident because these foods are usually full of beautiful colors.

I recommend adding chia seeds to your next bowl of oatmeal or greens. You don't even know they are there and if you have a hard time eating the recommended amount of fiber a day, this could be a quick and easy way to add that in. Today I added a tablespoon of seeds to my salad and trust me if I didn't put them on there myself I would not have known they were there :)

If you add chia seeds to any of your meals this week, please share them with me! I'd love to see. Have a great rest of your week!

-Carly

---

RSS Feed

About me:

If you couldn't gather from the title, my name is Carly Metcalf. I am passionate about all things food and nutrition. I gained my wonderful education from Oregon State University in Nutrition/Dietetics and plan to continue my education at Viterbo University in La Crosse, Wisconsin.
Powered by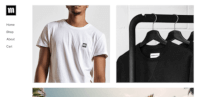 Create your own unique website with customizable templates.