---
Welcome to my website!
My name is Carly Metcalf and I am a Registered Dietitian Nutritionist who is passionate about all things food and nutrition. I gained my wonderful education from Oregon State University in Nutrition/Dietetics and continued my education at Viterbo University in La Crosse, Wisconsin. In my free time you can find me enjoying coffee at a local coffee shop, eating, spending quality time with friends and family, traveling all over the country and the world, playing with my kitten, or walking around the local farmers market. I hope you use this website to understand on a deeper level what nutrition means to me, and what it has to offer in your life.
I also want this to be a fun place where you can come and look for inspiration. Nutrition doesn't have to be complicated! Come browse my food pictures and get ideas for your next breakfast, lunch, or dinner. There is so much to learn and I'm here to learn it all along with you. Please don't hesitate to contact me with your questions or concerns.
Also...I love to post recipes and blog on here! So if you want to make sure you're up to date on my latest post, make sure you follow me on Instagram, @thirdsisiternutrition. There you will be notified when I post new content. Thanks for following along!
~Carly
---
Powered by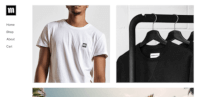 Create your own unique website with customizable templates.